The wrestling dual scheduled for Tues, 1/31, at Stilwell, has been cancelled.

🏀 games at Roland that were postponed due to weather have been rescheduled for Mon., Feb. 13 - JV 4 & 5, varsity 6:30 & 8.

The home JV girls game scheduled for tomorrow, Fri., 1/27, vs. Keys has been cancelled. JV boys will play at 4:45. Varsity game times are not changing – girls 6:00, boys 7:30.

Due to inclement weather and road conditions, tomorrow, Wed., Jan. 25, will be a virtual day. There will be no "in-person" classes. Students will need to follow class procedures for virtual days for each of their classes/teachers and will be responsible for assignments.

🏀 GAMES POSTPONED: Due to potential inclement weather, the 🏀 games that were scheduled for tonight at Roland will be rescheduled to a date and times to be determined.

After school and engagement are cancelled today.

Home wrestling tonight will be livestreamed to YouTube.com/CherokeeNation.

🏀 SCHEDULE CHANGES: Tues, 1/24 - Due to forecast of inclement weather, JV games scheduled for tomorrow, 1/24, @ Roland have been cancelled. Varsity games will be played earlier. New times are 5:30 girls, 7:00 boys. Thur., 1/26 - Home 9th grade games vs. Keys are cancelled.

Seniors- Winter/Spring Senior Athlete Recognition Night is Feb. 4th. You are invited to walk if you are in one or more of these sports/activities (Basketball, Cheer, Wrestling, Powerlifting, Track, Robotics, Academic Team, Golf, Slow-pitch softball, Baseball, Speech & Debate, Archery). Please complete the form (check email or see Ms. Brant) and return to Ms. Brant by Jan. 31st. If I do not have the form by Jan. 31st, I assume you will not be participating in the Recognition Night. Ms. Brant PS- Band will walk Jan. 27.

Think Pink Week! Survivors will be honored on Jan. 28 in between the girls and boys basketball games.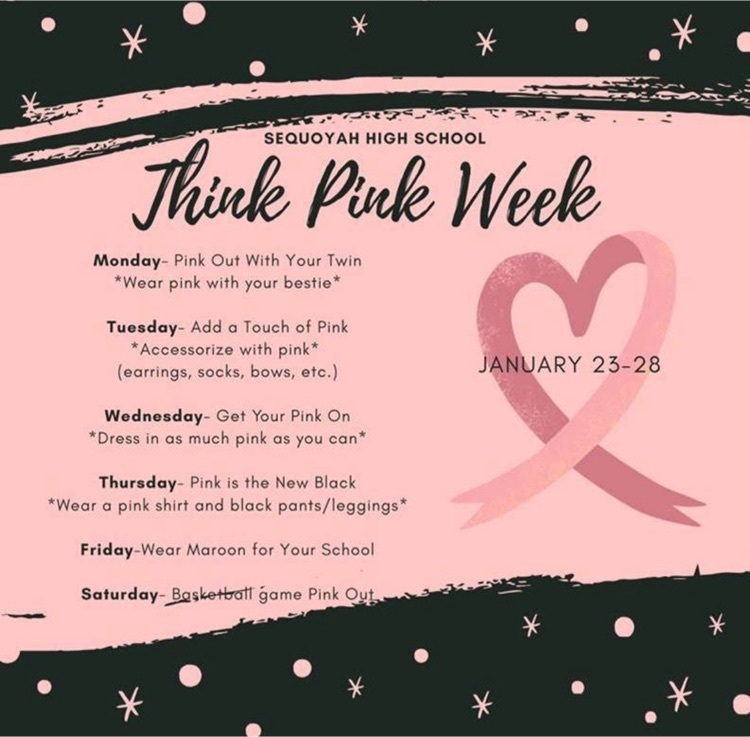 Members of Sequoyah's AISES had the opportunity to visit Boeing-OKC this past week. The students learned about several different engineering opportunities as well as observe some of Boeing's advanced technology.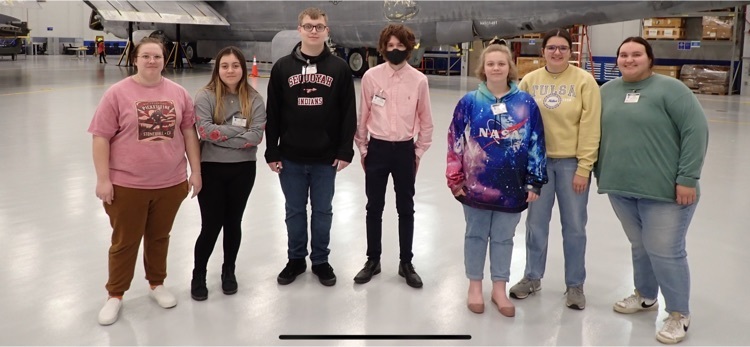 Interested in learning more about ICTC? Check out their Open House!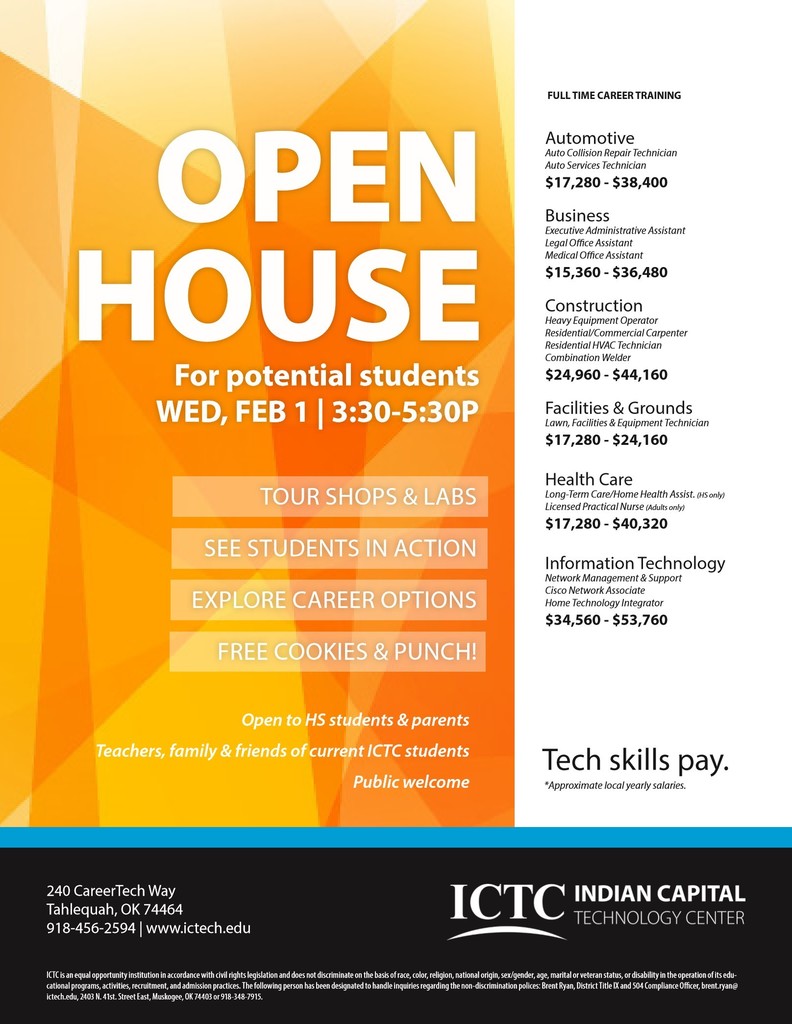 SCHEDULE CHANGES: Wrestling: The wrestling competition scheduled for today has been cancelled. 9th Basketball: Game times have changed for this afternoon/evening at Okay. Boys will play 1st, starting at 4:30. Girls will play at 5:30.

Sequoyah Schools will host 8th Grade Day on Wednesday, February 15, 2023, from 8:30-11:30 am in The Place Where They Play (new gym). Students who attend will receive a tour of the campus, information about courses, extracurricular activities, etc., and an enrollment application. Admission requirements to attend Sequoyah Schools are 1) Membership in a federally-recognized tribe, and; 2) A minimum GPA of 2.5 (GPA is calculated using first semester 8th year grades). Applications are scored on an admissions rubric in the following areas: attendance, GPA, behavior, completed application, and application submitted by deadline. For additional information, please contact Vicki Craig @ 918.453.5712
vicki-craig@cherokee.org
or Debra Nelson @ 918.453.518l
debra-nelson@cherokee.org
. We look forward to meeting you!!!

The Mvskoke Nation 🏀 Tourn. will be Jan. 19-21. 1/19 @ Beggs, 1/20 @ Okmulgee, 1/21 @ Henryetta & Beggs. 1/19 @ Beggs: SHS boys vs. Buffalo Valley, 5:30; SHS girls vs. Okmulgee, 7:00. The tournament was relocated due to water damage at the Mvskoke Dome in Okmulgee.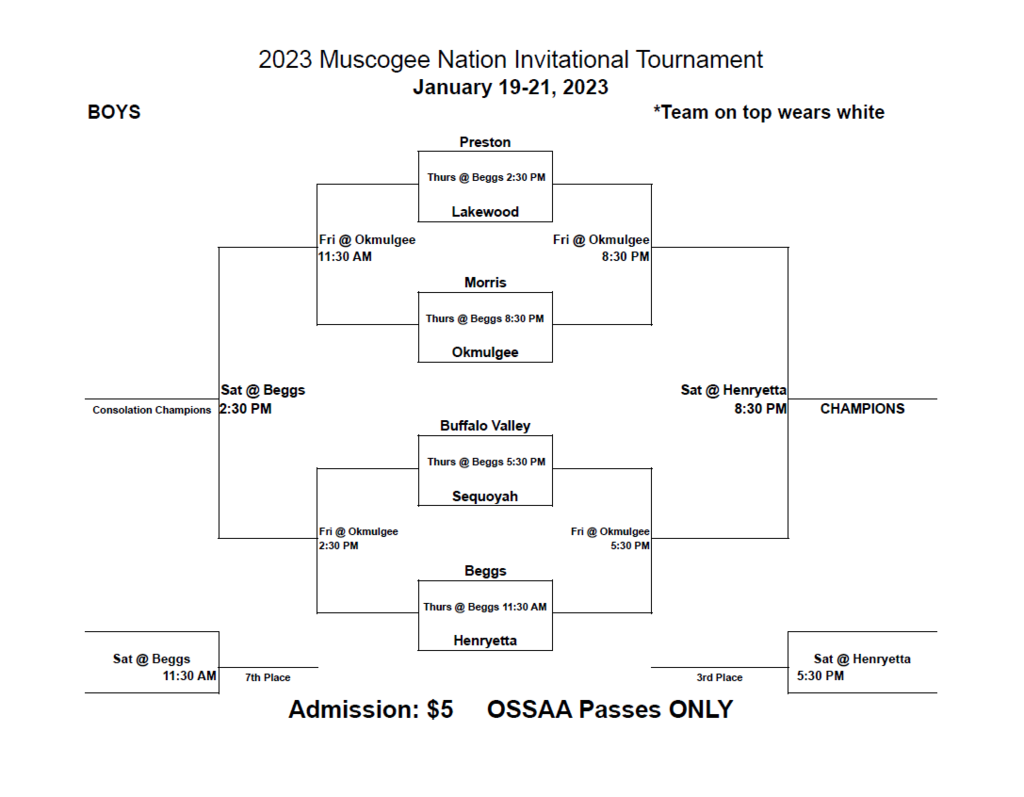 WRESTLING AND 9TH BKB SCHEDULE CHANGES: Wrestling: We will not go to the Catoosa Tourn., Jan. 13-14. We will go to the Will Rogers Tourn., Jan. 20, instead. 9th Basketball: The games at Spiro tomorrow will start at 4:30 and 5:30, an hour earlier than originally scheduled.

SHS cheerleaders are selling the 2023 Think Pink t-shirts. Order forms and money are due 1/18. The Think Pink game will be 1/28. Order yours today!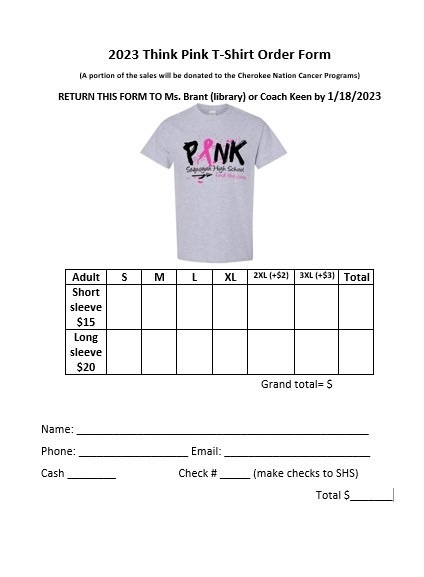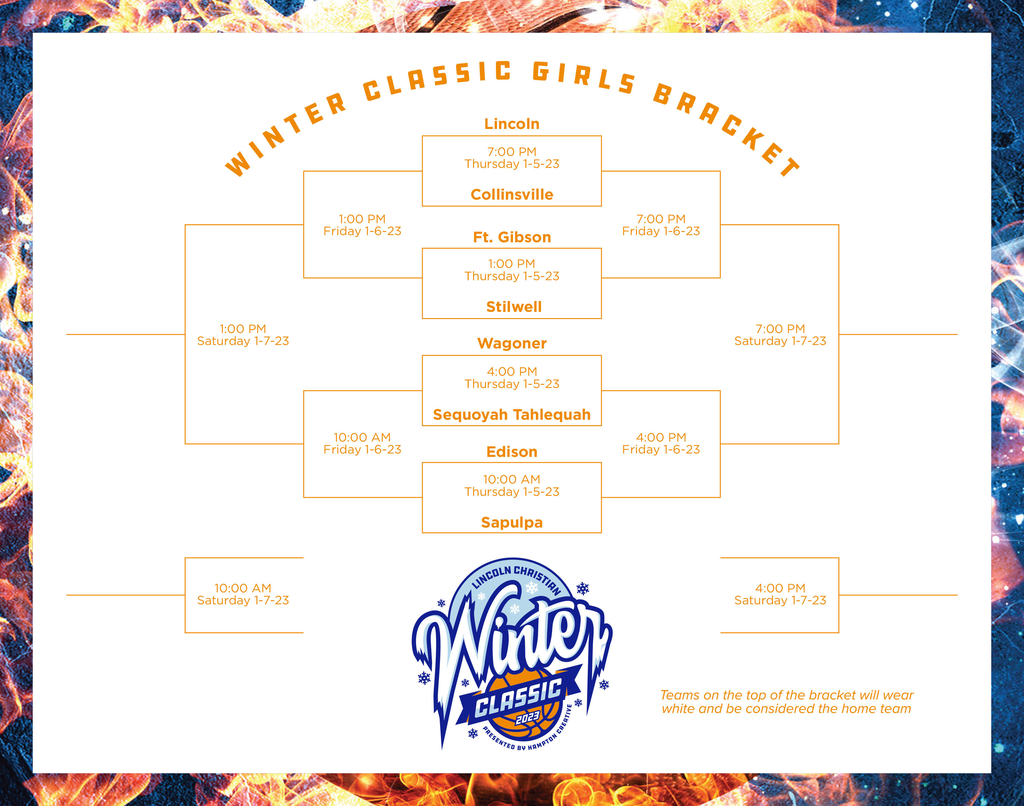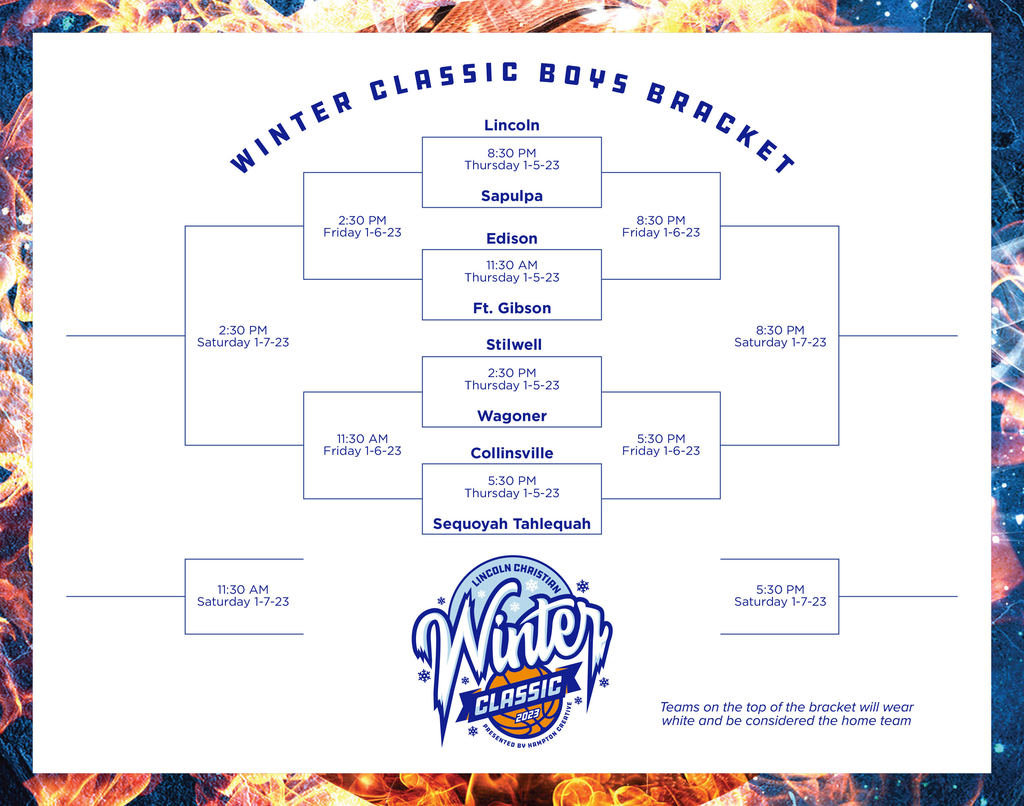 Wrestling Schedule Change: The home dual scheduled for this Thursday, 1/5, has been cancelled.