Home 🏀 games tonight vs. Keys. JV 4:00/5:00, Varsity 6:00/7:30. COVID-19 Precautions: *All spectators must wear a mask. *Some seats have been zip-tied closed to encourage distancing. *Only teams & staff working the games will be allowed on the lower level. Games will be livestreamed on the Cherokee Nation YouTube channel at
https://YouTube.com/CherokeeNation
. Games will be separate events. Refreshing might be required to switch games.
REMINDER: Tomorrow, Friday, 12/17, we will be on a condensed schedule. Students will be dismissed at 11:55 A.M. Buses will depart at noon.

Silent Auction for Class of 2022 at Thursday's night game against Keys (Dec. 16th)! Support our amazing Seniors!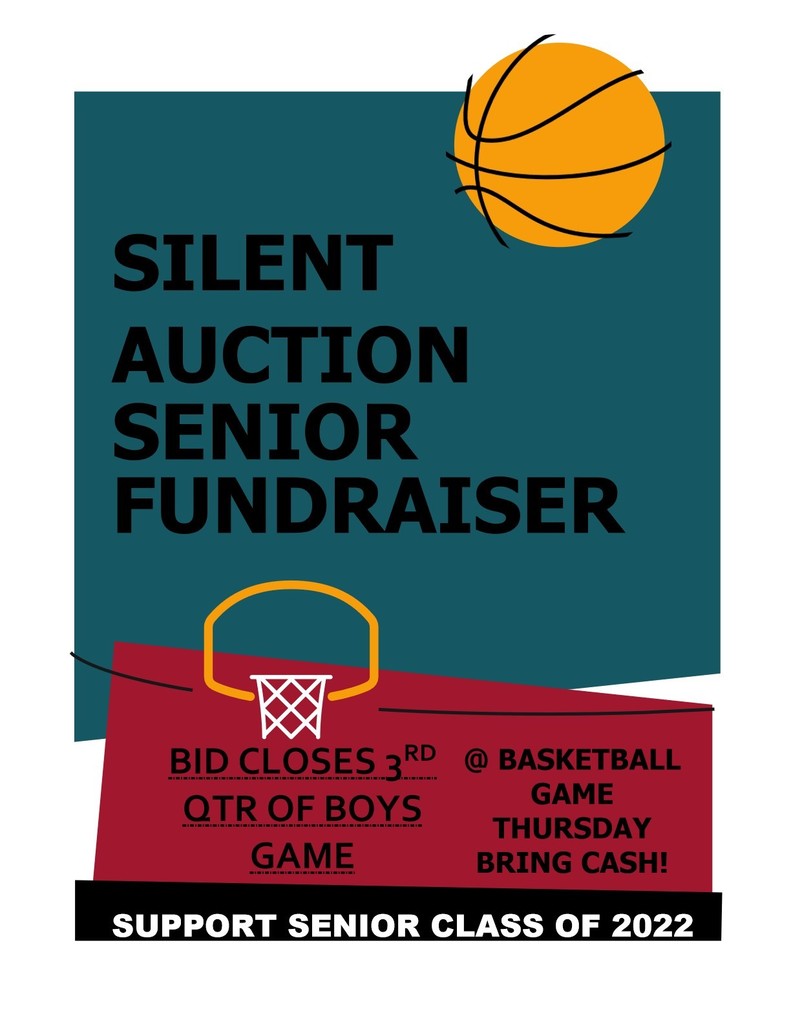 Back by popular demand! The SHS Cheerleaders are selling short and long sleeved shirts with this design but have added a polo and cardigan and both the polo and cardigan are embroidered. Orders are due to Coach Keen, Ms. Brant, or a cheerleader by 12/17/21.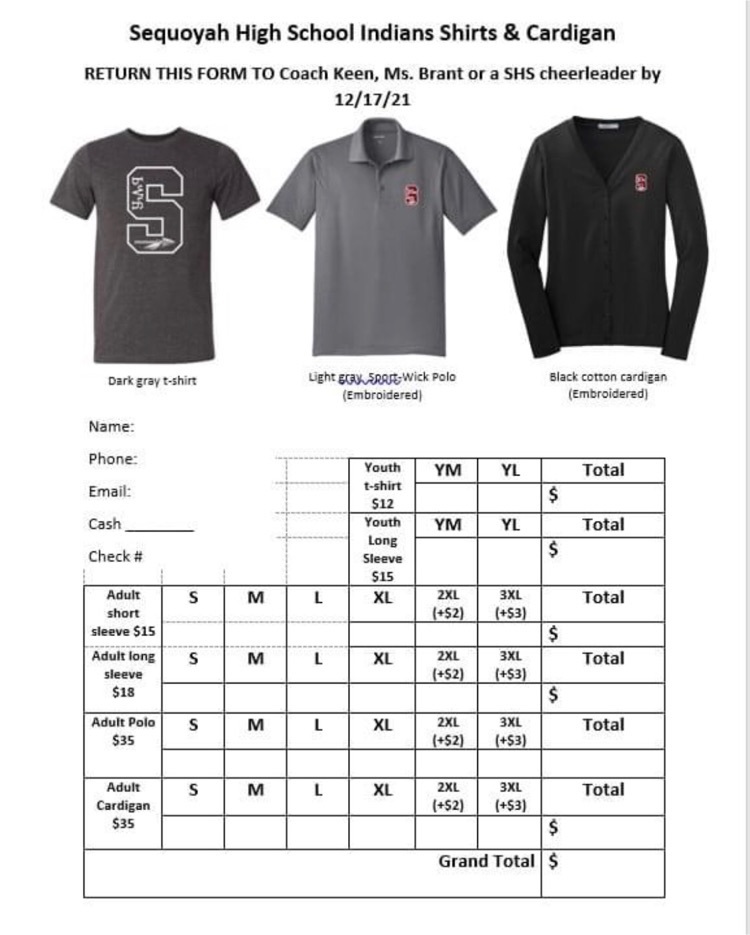 Beginning Monday, December 13, Cherokee Nation will offer the Pfizer COVID-19 vaccine booster to 16 and 17 year olds. Following CDC guidelines, the booster is approved for those who have completed their initial Pfizer vaccine series at least six months prior. It is not approved for those who have received the Modena vaccine or the one dose Johnson and Johnson vaccine. According to the CDC, the booster can increase immune response, and improve protection against getting infected with COVID-19. The COVID-19 vaccines, including the Pfizer booster are available at any of the tribe's outpatient health centers from 8a.m. to 4p.m. Monday through Friday, excluding holidays. Walk-ins are welcome. Appointments can also be scheduled by calling 1-539-234-4099. Sequoyah students who turn in proof of receiving the booster to Nurse Ogden by the June 1, 2022, deadline will receive the $300 booster incentive. We are trying to set up another vaccination clinic at Sequoyah. We will share information about that as it becomes available.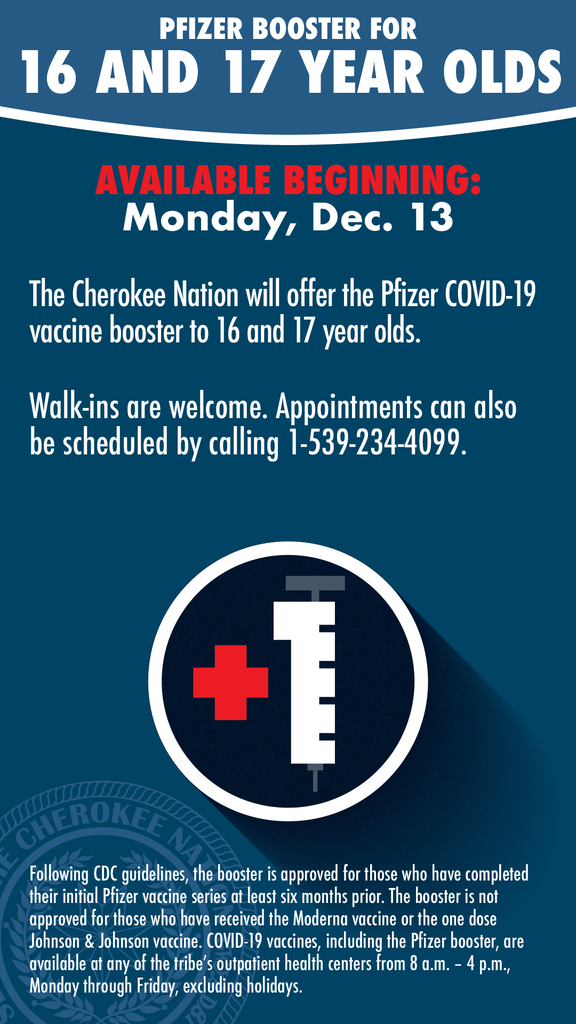 Just a reminder about the Holiday Break and first home basketball game Spirit Week!!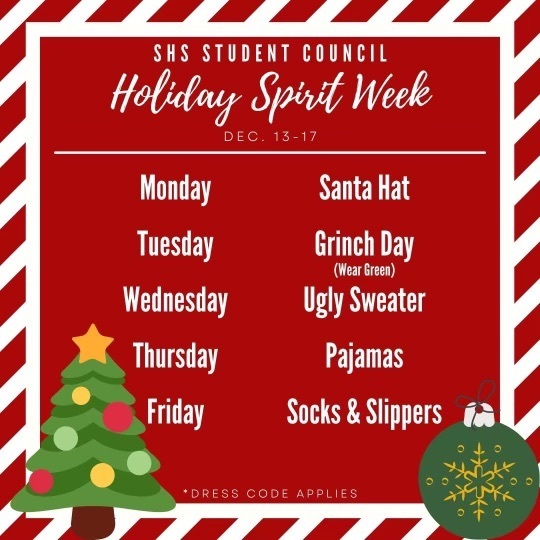 Congratulations to Sequoyah's robotics team 2398A (Gabe Miller, Blake Washington, & Chris Pantle) for winning the judges award & placing 1st at the Rogers County Rumble today! Koda Billy placed 2nd.

Reminder: Friday, Dec. 17th is a condensed schedule. Buses will run at noon. Also, students return to school on January 4th after the holiday break. January 3rd is a work day for teachers. Have a great break!
Tahlequah 🏀 Tournament Update: Game time changed for boys today. SHS boys vs. Tahlequah today at 5:30pm. SHS girls vs. East Central today at 1pm.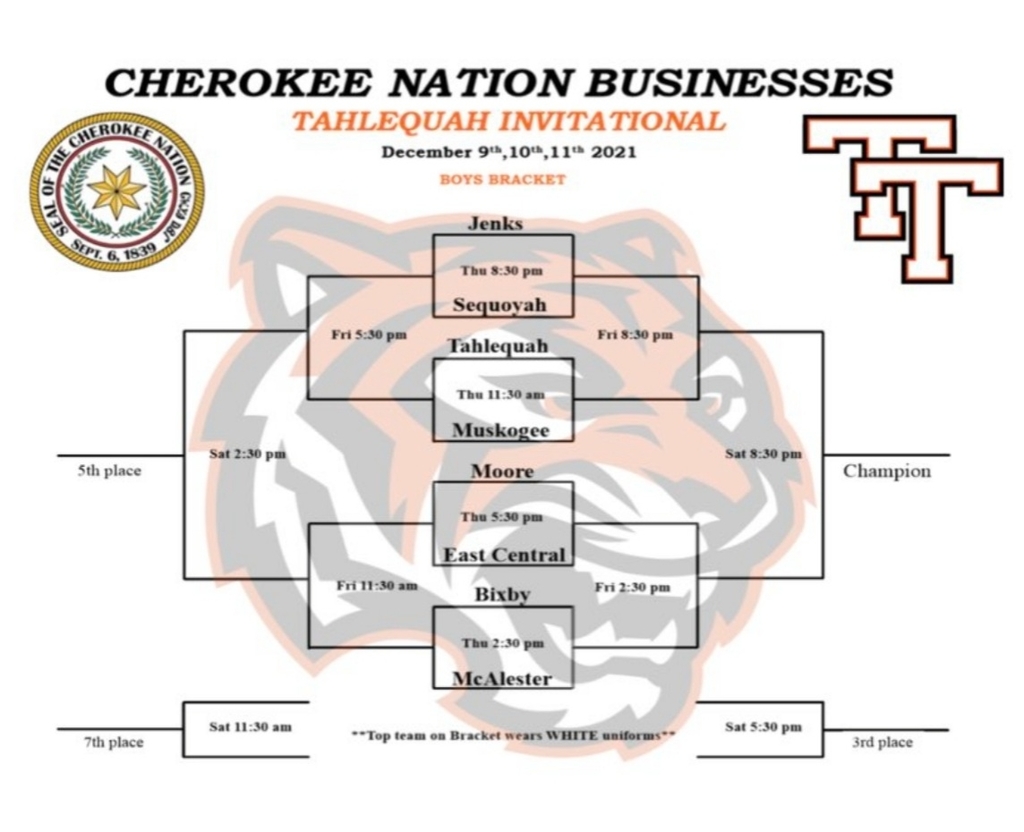 Tahlequah Basketball Tournament games will be livestreamed by Bravado Wireless at
https://bravadowireless.com/bravado-tv/
. Tonight, Sequoyah girls play Ponca City at 7:00. Boys play Jenks at 8:30.
REMINDER No school this Friday, Dec. 10.
Parents/guardians and students, We will be dismissing school early on Friday, December 3, 2021, at 12:50 P.M. Please pick your child up before 1:00 P.M. on this day. We will not have tutoring Friday, so dorm students will report to the dorms after dismissal. I apologize for any inconvenience.  Thank you! Ramona Ketcher SHS Principal
Tonight's basketball games at Ft. Gibson will be livestreamed at FortGibsonTigers.tv. Varsity girls 6:30, boys 8:00.

Opening Basketball Season Pep Assembly tomorrow, Tuesday, Nov. 30th 12:00 p.m. - 12:40 p.m. in the New Gym. Wear the following colors to show off your school spirit: Freshmen – Maroon, Sophomores – Gray, Juniors – White, Seniors – Black Reminder: Even though our first home Varsity game isn't until Dec. 16th, all students will need a school ID to get in to home games free of charge!

Priceless Poses Photography will be taking Senior Pictures in the Storm Shelter Tuesday, Nov. 30th – Thursday, Dec. 2nd. Seniors will report at their scheduled time. See Mrs. Livingston or Mrs. Conrad for a schedule.

Senior Baby Pictures and Senior Quotes for yearbook are due this Wednesday, Dec. 1st in order to be included in the Senior pages of yearbook!! Please email Mrs. Conrad at
toni-conrad@cherokee.org
for more information.

Condensed Class Schedule tomorrow, November 19th. School dismissed at 12:00 p.m. Sorry, wrong date on earlier post.