The SHS Softball game scheduled at Porter for 8/31 has been moved to Sequoyah HS. Start time is at 4:00 PM. Good luck Lady Indians!!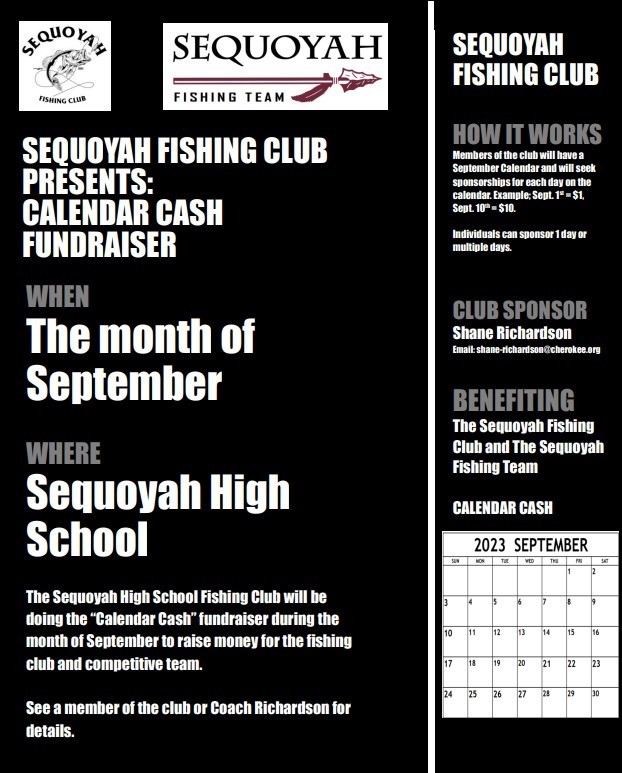 Congratulations to the SHS softball team for winning their game tonight against Kiefer! Final score was 3-1!!
Check out what's happening at Sequoyah this week!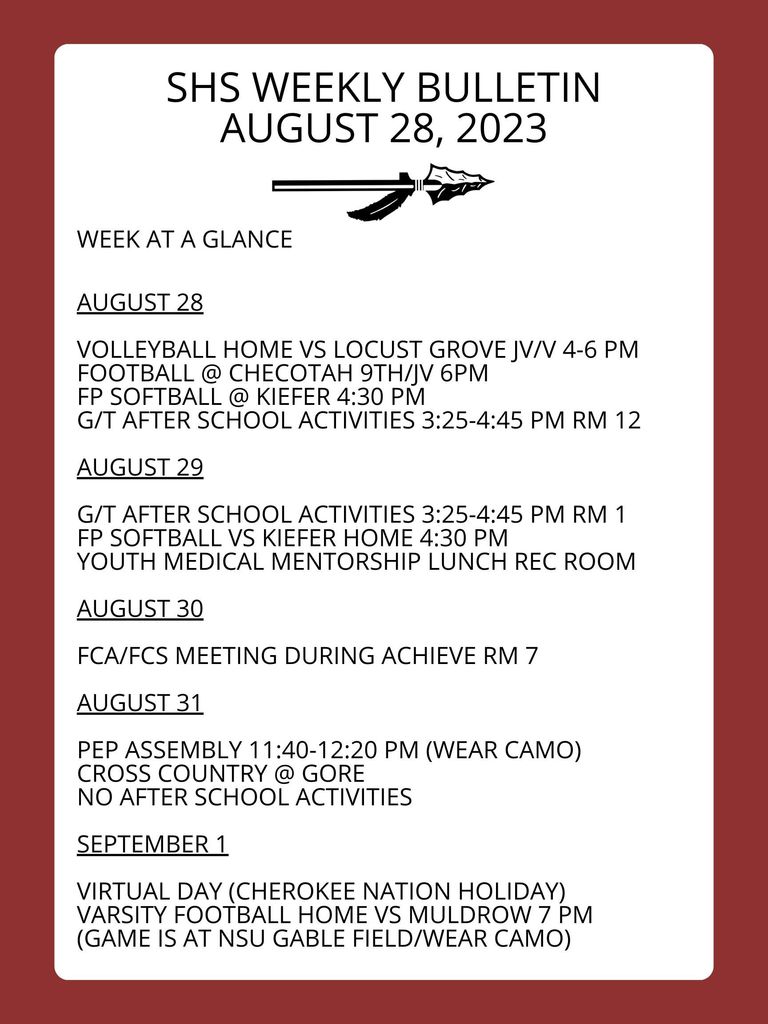 SHS Football Vs Checotah on Monday 8/28 has been moved to Checotah. There will be only 1 game and it will start at 6 pm.
SHS Volleyball will add a third game for there match with Locust Grove tonight on 8/28. Game Times are 4, 5, and 6PM. Come support the SHS Volleyball Team!!
"We Can't Hide Our Indian Pride!"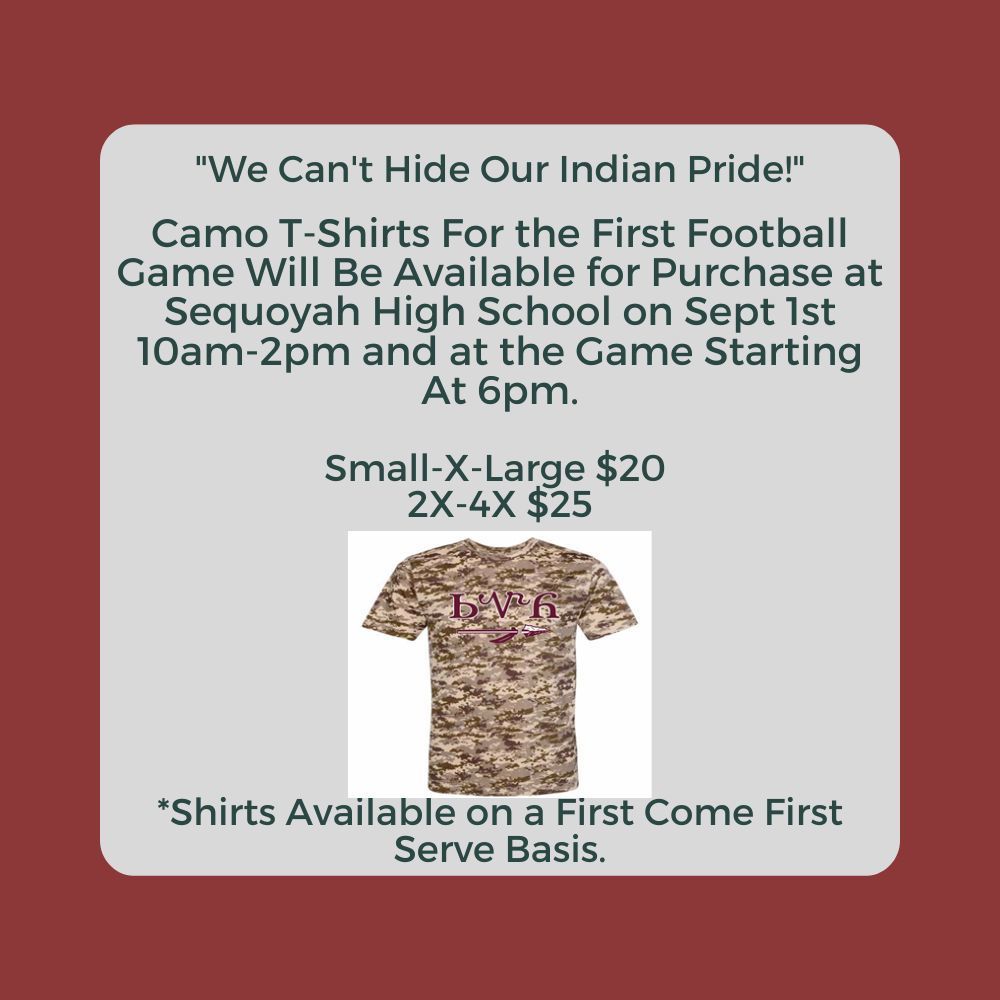 Hello Week @ SHS – August 28th thru Sept.1 Sponsored by Sequoyah Youth MOVE Monday: We invite all students and staff to stop by our Youth MOVE table in the main hall and take a selfie with our Instagram photo frame and leave us a positive comment. You can also make a nametag. Today's Hello Week challenge: Introduce yourself to at least 3 new students! Tuesday: Pledge to be an upstander! An upstander is someone you can trust and depend on to help you when you need it. Come by our Youth MOVE table and write the name of your upstander on a green slip of paper and connect to our chain. Wednesday: Wear green to show school unity and connectedness! We'll have green stickers available at our Youth MOVE table if you need one. Thursday – Recognizing our trusted adults. We invite all students to write the name of their SHS trusted adult and add to our banner.

"Giving Sight Day" Saturday, September 23rd. The purpose of this event is to give free eye exams and glasses to community members who are in financial need and are not eligible for another form of eye care health coverage. Students and community members of any age may come to the NSU Optometry Clinic at 8 am on Saturday 9/23 to receive a voucher for an eye exam. These are given on a first-come, first-serve basis. The voucher will state the patient's appointment time. All exams will take place between 8:30am-12p m on Saturday.

Sequoyah FCA/FCS will be selling t-shirts August 21st – September 1st. Please see Mr. Smith, Mrs. Smith or any FCA/FCS member to place an order. No Youth Sizes. Adult Small Shirt - $17 Adult Medium Shirt - $17 Adult Large Shirt - $17 Adult XLarge Shirt - $17 Adult 2XL Shirt - $18 Adult 3XL Shirt - $19 Adult 4XL Shirt - $20

Students who return their school lunch forms by August 31 will be entered in a drawing to win a pair of Apple Air Pods!!!

The 2023 Homecoming T-shirt order forms are now available. Orders are due 9/8.

Need Sequoyah gear? Live out of town or out of state? Check out these items! Order online and items mailed directly to you. Sell ends 9/15.
https://bit.ly/3YKprbX
SHS Football Vs Checotah on Monday 8/28 has been moved to Checotah. There will be only 1 game and it will start at 6 pm.
The Football game scheduled for 8/31 Vs. Muldrow has been moved and changed to 9/1. SHS Football will now play Muldrow at NSU Doc Wadley Stadium on Friday September 1st. Kick Off time is 7PM
SHS Softball against Oaks/Cave Springs scheduled for 8/31 has been cancelled. Instead SHS softball will travel to Porter on 8/31. Varsity Game time is at 4:00 with JV playing the second game.
Please remember to turn in your school lunch forms, so that you can be entered in the drawing for a pair of Apple Airpods! Forms are due August 31!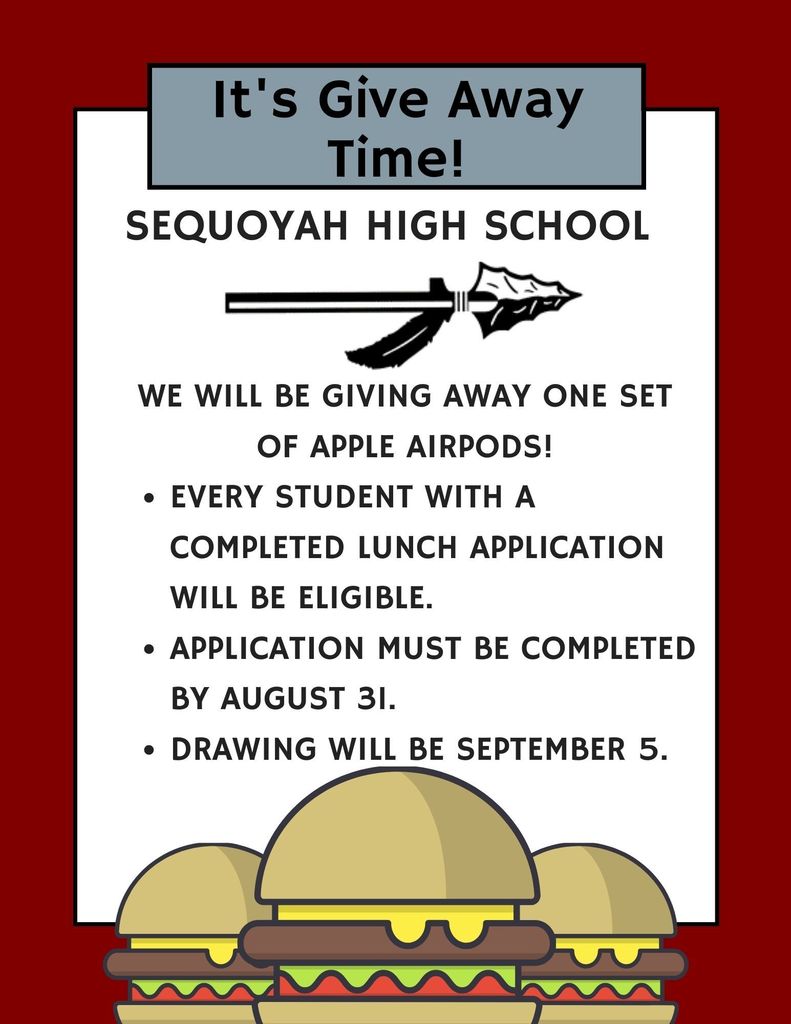 Congratulations to SHS Softball they won against Key tonight 13-3!
SHS Softball Game scheduled for August 24th Vs Oaks has been cancelled.
Football Scrimmage @Catoosa on Thurs 8/24 will start @7 instead of 6pm. 7pm Vs Catoosa. 7:45 Vs Tulsa Hale. 9:45 Half game Vs. Catoosa.