🏀 Playoffs: We will host Westville for district, Saturday, Feb. 18, at 6:00 and 7:30. Our regional will be at Adair, Feb. 23-25. Other teams in our regional are Kiefer, Sequoyah Claremore, Adair, Salina, Kansas, and Westville. Area will be at Verdigris, March 2-4. Teams in the other regional for our area are Millwood, Harding, Keys, Central (Tulsa), Morris, Jones, Star-Spencer, Dove Science (Boys only) State will be in the OKC area the week of March 6. District tickets are not available yet, but should be by Feb. 13 through GoFan at
https://gofan.co/app/school/OSSAA
. Online tickets cost $7 per session for district, regional, and area, and $10 per session for state. There will also be a $1.35 service fee for each ticket. Cash tickets will be available at the gate at all 🏀 playoffs, but cash tickets will cost more than online tickets. We will post cash prices and any other details as we receive that information. Last year, cash tickets cost $10 per session for district, regional, and area, and $13 per session for state.

🏀 Schedule Update for Sat., 2/4: The home JV games tomorrow have been cancelled. Sr. recognition ceremony will begin at 5:30, varsity girls 6:00, & varsity boys 7:30. We hope to see you here for our last regular season home games to celebrate our Srs. & support our teams!


Sequoyah will be having school Friday, February 3. Buses will run delayed snow routes. School will begin at regular time.

Seniors who are involved in winter/spring sports/activities, please send Ms. Brant via email your information to walk Saturday night. The forms were emailed several weeks ago. These activities include: Basketball, Cheer, Wrestling, Powerlifting, Track, Robotics, Academic Team, Golf, Slow-pitch softball, Baseball, Speech & Debate, Archery. Those who are walking, please be in the rec room at 5:15 pm with your escorts on Feb. 4th. Email Ms. Brant at
rebeccabrant@sequoyahschools.org
or
rebecca-brant@cherokee.org
with any questions.

Sequoyah High School will remain virtual tomorrow, Feb. 2nd. Students- please remember to check your school email and Blackboard for assignments.

Due to the road conditions and more winter weather today, Sequoyah High School will be closed for a snow day tomorrow, Wednesday, February 1st.

Sequoyah High School will be virtual Tuesday, Jan. 31. Stay safe and stay warm!!

The wrestling dual scheduled for Tues, 1/31, at Stilwell, has been cancelled.

🏀 games at Roland that were postponed due to weather have been rescheduled for Mon., Feb. 13 - JV 4 & 5, varsity 6:30 & 8.

The home JV girls game scheduled for tomorrow, Fri., 1/27, vs. Keys has been cancelled. JV boys will play at 4:45. Varsity game times are not changing – girls 6:00, boys 7:30.

Due to inclement weather and road conditions, tomorrow, Wed., Jan. 25, will be a virtual day. There will be no "in-person" classes. Students will need to follow class procedures for virtual days for each of their classes/teachers and will be responsible for assignments.

🏀 GAMES POSTPONED: Due to potential inclement weather, the 🏀 games that were scheduled for tonight at Roland will be rescheduled to a date and times to be determined.

After school and engagement are cancelled today.

Home wrestling tonight will be livestreamed to YouTube.com/CherokeeNation.

🏀 SCHEDULE CHANGES: Tues, 1/24 - Due to forecast of inclement weather, JV games scheduled for tomorrow, 1/24, @ Roland have been cancelled. Varsity games will be played earlier. New times are 5:30 girls, 7:00 boys. Thur., 1/26 - Home 9th grade games vs. Keys are cancelled.

Seniors- Winter/Spring Senior Athlete Recognition Night is Feb. 4th. You are invited to walk if you are in one or more of these sports/activities (Basketball, Cheer, Wrestling, Powerlifting, Track, Robotics, Academic Team, Golf, Slow-pitch softball, Baseball, Speech & Debate, Archery). Please complete the form (check email or see Ms. Brant) and return to Ms. Brant by Jan. 31st. If I do not have the form by Jan. 31st, I assume you will not be participating in the Recognition Night. Ms. Brant PS- Band will walk Jan. 27.

Think Pink Week! Survivors will be honored on Jan. 28 in between the girls and boys basketball games.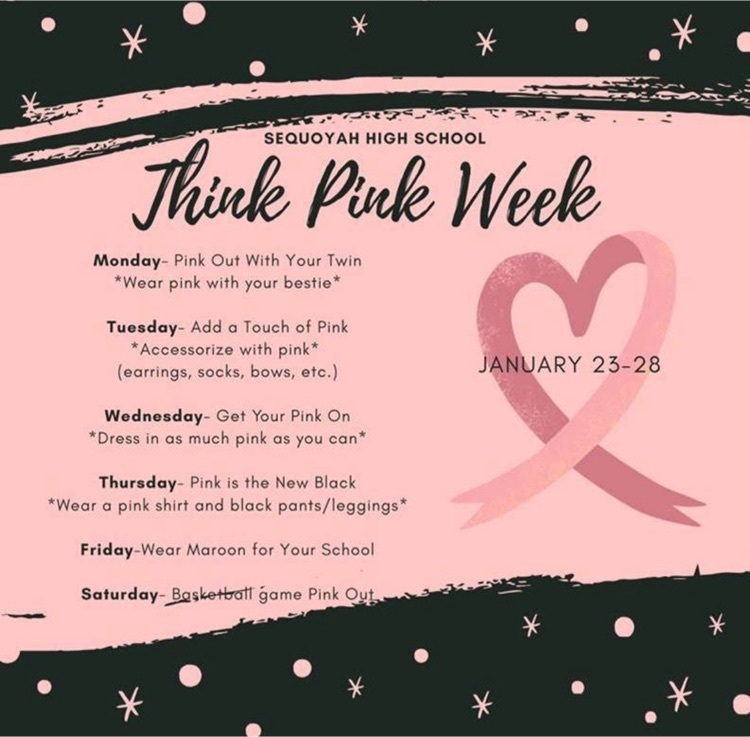 Members of Sequoyah's AISES had the opportunity to visit Boeing-OKC this past week. The students learned about several different engineering opportunities as well as observe some of Boeing's advanced technology.