Here's the direct link to GoFan 🎟 for our 🏀 regional @ Adair:
https://gofan.co/app/school/OK24411
Pay close attention to the session/time. We play in session #2 on Thurs. We won't know which session(s) we'll play in Fri. or Sat. until after games the day before.

Monday, 2/21, is a regular school day.

Congratulations to Sequoyah Lady Indians & Indians for winning district championship tonight vs. Okmulgee! Girls won 95-32. Boys won 59-39. Both teams will play @ Adair Regional, Thurs., 2/24. Girls 6:30pm vs. Adair. Boys 8:00pm. vs. Westville. Digital tickets available tomorrow @ noon.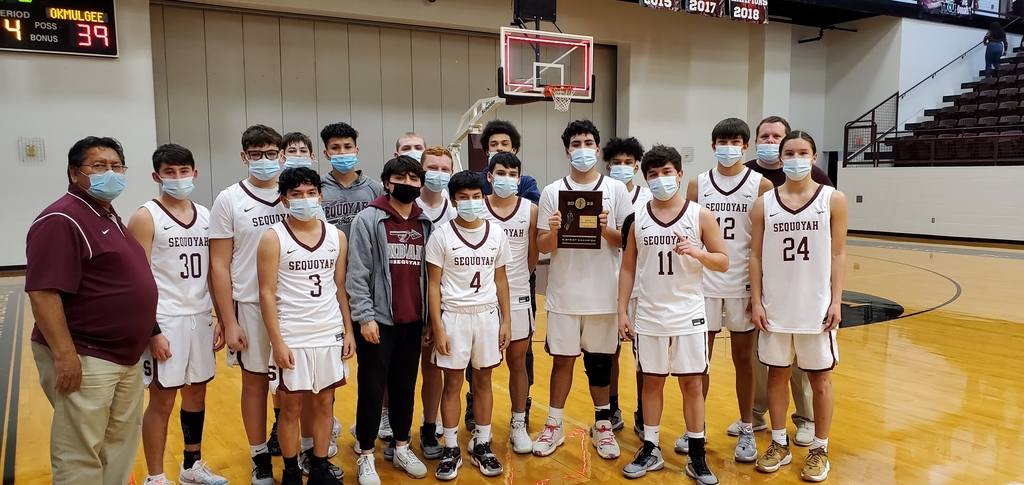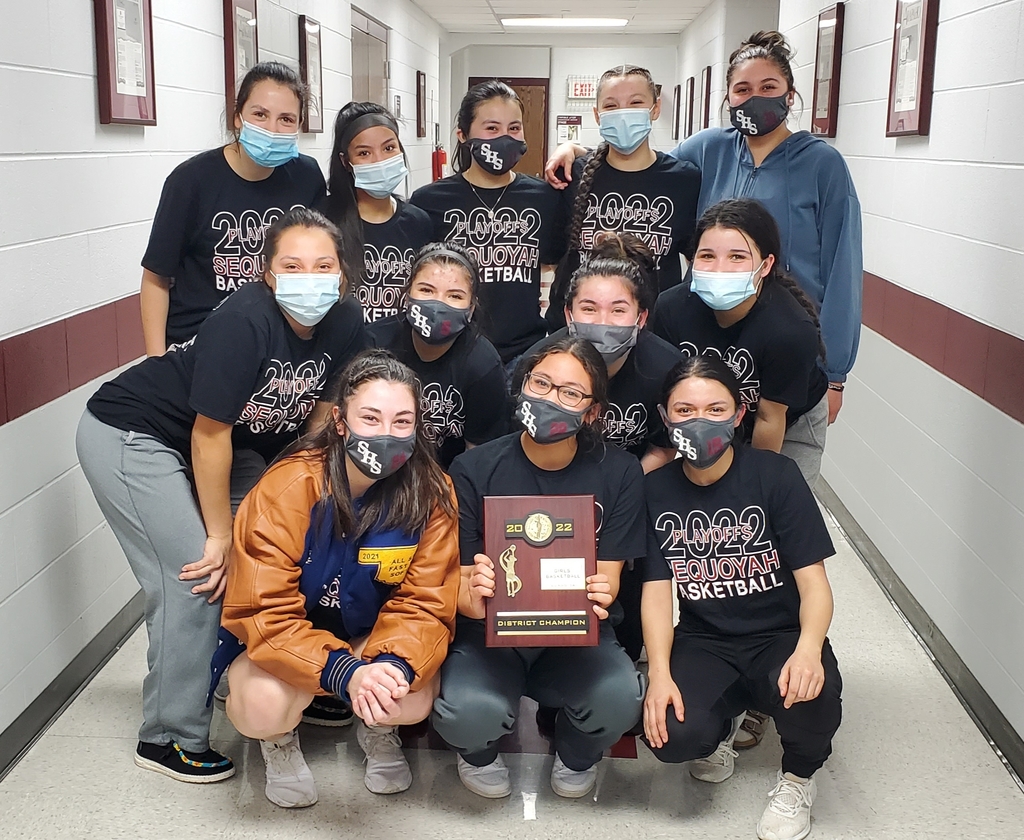 🏀 SCHEDULE CHANGE: 🏀 start times have changed for this Saturday, 2/12, vs. Riverside, at Dale, to varsity girls at 3:00 and varsity boys at 4:30.

🏀 PLAYOFFS: We will host Okmulgee for district, Sat. night, 2/19. Times TBD. Regional @ Adair, 2/24-26. Area @ Verdigris, 3/3-5.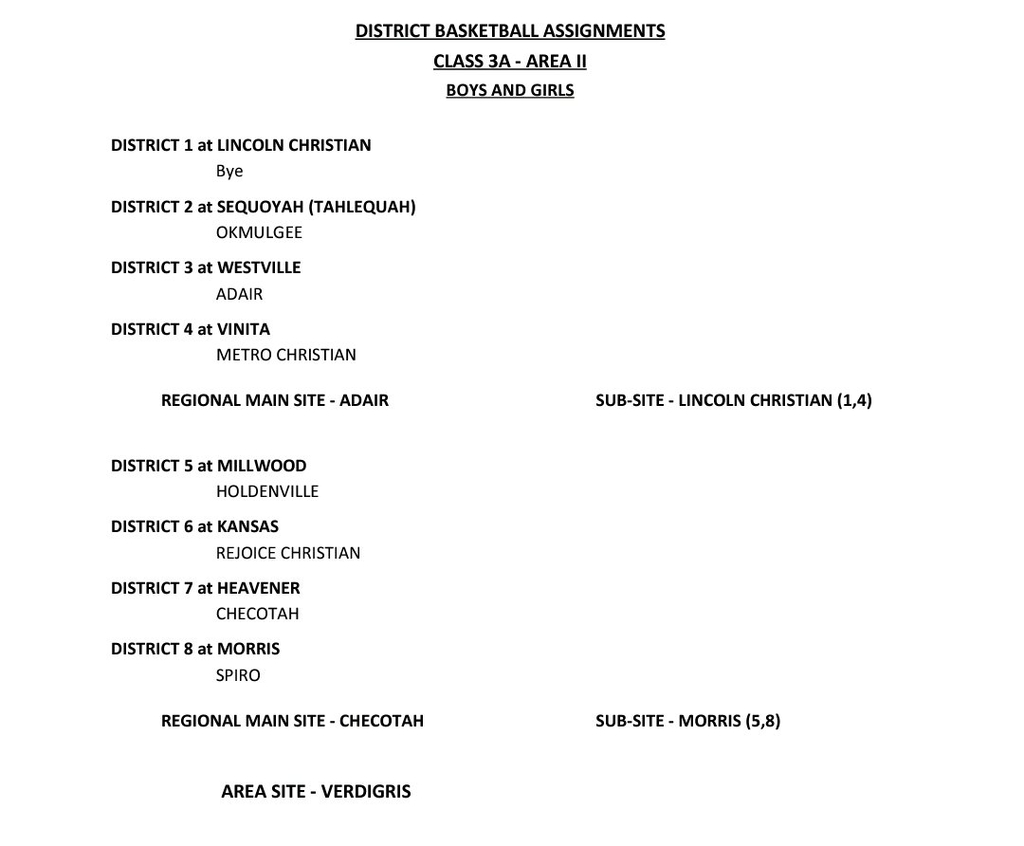 🏀 SCHEDULE CHANGE: Varsity 🏀 games tomorrow, Sat., 2/5, vs. Inola, will start at 1:30 & 3:00. JV games are cancelled. Games will be livestreamed on Cherokee Nation's YouTube channel.

Due to the weather conditions we will be moving mini cheer and all Think Pink activities to our home game on Feb. 8th. Mini -cheer practice will be next Monday and Tuesday 3:30-5:30. Mini-cheer will perform at halftime of the girls game and our Think Pink slideshow presentation will be in between the games. If your student is unable to attend and you would like a refund please email
Laurin-keen@cherokee.org
. Otherwise we look forward to a fun mini cheer and seeing your student on Monday for the first practice.

SHS was canceled as a test center for the February 12th ACT! If you registered for the test, check your ACT account to see where they re-assigned you. ACT pre-billed registration vouchers for the April 2nd ACT are available from Ms. Nelson. Registration deadline is February 25th. This is the last test for the year that we are a test center. Sophomores interested in Concurrent Enrollment for next fall need to register for the April test.

Mini-cheer is still on for Saturday's Think Pink game. However, due to inclement weather the Thursday practice is canceled. If weather permits, we will practice on Friday from 3:30 pm- 5:30 pm and Saturday from 4:00 pm- 5:45 pm. The performance will be at halftime of the girls' game. For questions or more information, please email
rebecca-brant@cherokee.org
or
laurin-keen@cherokee.org
.

SCHOOL SCHEDULE CHANGES: Students will be dismissed at noon, tomorrow, Wed., Feb. 2, 2022. We will follow a condensed schedule (attached). Students will be virtual Thurs., Feb. 3. We will still have virtual parent/teacher conferences Thurs. evening and Fri. morning.

Seniors involved in winter and/or spring sports and want to participate in Senior Night on Feb. 8th must submit your form to Ms. Brant by 3:30 pm on Feb. 1st. Please check your email for the form.

Think Pink shirts are in! If you ordered one, please contact Ms. Brant.

Start times of 🏀 games at Silo today have been pushed back to 4:30 for girls & 5:45 for boys.

Today's 🏀 games at Silo will be livestreamed at Silorebels.tv.

It's back!!! Sequoyah Schools will host 8th Grade Day on Tuesday, February 8, 2022, from 8:30-11:30 am in The Place Where They Play (new gym). Students who attend will receive a tour of the campus, information about courses, extracurricular activities, etc., and an enrollment application. Admission requirements to attend Sequoyah Schools are 1) Membership in a federally-recognized tribe, and; 2) A minimum GPA of 2.25 (GPA is calculated using all of 7th & 8th Grade grades through December). Applications are scored on an admissions rubric in the following areas: attendance, behavior, completed application, and application submitted by deadline. For additional information, please contact Vicki Craig @ 918.453.5712
vicki-craig@cherokee.org
or Leslie Heth @ 918.453.5171
leslie-heth@cherokee.org
. We look forward to seeing you!!!